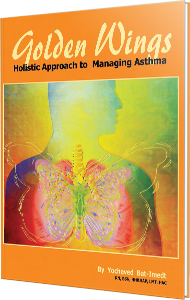 Golden Wings…. Book Reviews
Rami Bachiman
Director, Community Education
American Lung Association of New York
This book will no doubt contribute to the expanding field of alternative medicine and healing. I especially appreciate your position that the traditional approach is to be used in conjunction with current medical interventions.
Tieraona Low Dog MD, AHG,
Founder of the Treehouse Clinic of Natural Medicine in Albuquerque, New Mexico Facility,
Department of Medicine, Columbia University
Yocheved has done an excellent job of integrating natural western medicine in the treatment of asthma. She weaves together diet, exercise, reflexology, massage, herbs and pharmaceutical medications into a recipe for health that is easy to understand. While symptoms are alleviated, a deeper healing can occur- offering those with asthma an opportunity to experience real health.
Joseph A. Tyndall, MD, MPH, FACEP
Chairman, Department of Emergency Medicine
Chief of Emergency Services, UF Health
Nurse Yocheved Bat-Imedt presents an important work that not only will help to increase the awareness of asthma but provides, in parallel, radically different approaches to prevention and management without abandoning proven traditional techniques.

This book provides very informative reading for those uninitiated in the growing movement of alternative medicine.
Anthony Kweku Andoh, PHD, F.L.S,
Author of The Science & Romance of Selected Herbs
Nurse Yocheved's plain language, clear teachings and illustrations make this a helpful tool for persons seeking alternative methods for treating a dysfunction with increasing numbers of victims each year.
Christopher Hobbs, LAc., A.H.G
Author of numerous books including, Health, Healing with Herbs and Foods
I highly recommend Golden Wings, Holistic Approach to Managing Asthma…Yocheved Bat-Imedt has written a book that goes beyond a simple medical or holistic approach for managing asthma. She has given the reader a better understanding of how to create true health through self-awareness.
This book is a tool for all health care practitioners and lay people who wish to expand their knowledge and understanding about asthma.
Sheila A. Mason, Licensed Acupuncturist
I heartily recommend this book on an old health concern—asthma, because it presents many different but effective ways of dealing with this sometimes-life-threatening disorder…GOLDEN WINGS will definitely be an important addition to Your medical library.
Beatryce Nivens,
Author, Success Strategies for African-Americans
Excellent! Golden Wings….is an excellent prescription for the many. asthma sufferers…for Anyone who wants an understanding of why asthma attacks the system and how to deal with it, this book is certainly on target